The word has spread quickly and a majority of the Riverfront Lofts units are already sold to a diverse and talented group of buyers -- all involved in the arts. Our new community includes ages from twenty-something to eighty with a large variety of interests -- painting, sculpture, photography, printmaking, furniture, ceramics, culinary arts, quilting, knitting, woodworking, graphic design, lighting design, instrumental and vocal music, restaurant design and architecture.

Meet a few of the new Riverfront Lofts owners:

Linda Dewing (and cats, Shadow and Aristotle)
Unit 605
I am so excited about sitting out on my second floor roof deck and watching the sunset, or sitting under the stars--come join me! I have two elderly and beloved cat companions, Shadow who is black and white, and Aristotle, nicknamed Tottie, (after all, how do you call: "Aristotle!" out the back door??) who is orange. I'm hoping to find others who are willing to share cat feeding if we have to be away.

I am a "Jill of all trades," I guess, and being an artist is my core--I love to make things with my hands, whether sculpture, cooking, quilting (a current thrill) or gardening. I have a lot of houseplants that link indoors and outdoors for me. I also own a home-based business marketing personal care products for inside and outside--all healthy, natural and effective. I have two grown children. Chris and his wife Jill live in San Diego where he is a resident in orthopedic surgery with the Navy. Ginger lives on the Pawtucket/Providence line not too far from Riverfront, and works in the development office at Brown, her alma mater. Chris and Ginger are both way taller than I am, and laugh about my being the shrimp.

I have always wanted to be part of a community of people joined in a common purpose or vision, so Riverfront Lofts felt instantly perfect to me, and I can hardly wait.

Toba Weintraub
Unit 304
On my tax returns, under occupation, I put artist and educator. The art is oils and mixed media, some figurative, but somewhat abstract. I am a member of the Pawtucket Arts Collaborative and the Attleboro Art Museum. I will be having a show at the Jewish Community Center of RI on Elmgrove Avenue in Providence in April, the opening is April 25th 2:00-4:00. I extend an invitation to all my new neighbors, please come. Although I love making art, it does not pay the bills, or provide me with an opportunity to interact with people. I love to teach, and have taught in various places and in various ways: from aerobic dance classes at the YMCA in Providence and Pawtucket to art classes for children at RISD, the JCC and the Attleboro Museum; from art appreciation classes at the Brown Continuing Education Programs to art classes for seniors at local assisted living facilities. When I write it all out it must seem like IÕm a pretty busy girl, but I have plenty of time to read, explore the countryside, go to movies and try to establish new friendships.

I am excited about decorating my new home, and can't wait to actually be in there. If there is anyone at the lofts that is looking for someone to go furniture shopping--new and antique--give me a call...751.2374.

Rich and Julie Rose (and pug Uncle Ned and cat Nandi)
Unit 610
Rich and Julie live on top West corner of the Vesta building in the "unit with the elevator pulleys" that you can see from outside. Rich is design director at Popkitchen in Providence. They design websites and identities, and have a client list that includes Nickelodeon, and rapper LL Cool J. They are also designing a cool logo for Riverfront Lofts, that is to be unveiled soon. Rich is also a photographer, teaches design part time at RISD, and published a book of poetry recently, called "The Archipelago". Julie is an interior designer. She teaches at Suffolk University, and works as a lighting designer. She also counts a number of celebrities among her clients.

Their whole space has "funky angles" which they intend to show off. One inherited internal wall has its own window, to be highlighted. Rich hopes to offer a movie night for residents. Do we bring our own popcorn?

Linda and Steven Cohen
Unit 601
Steve and Linda moved to Providence in 1976, built a contemporary house on the East Side in 1980 and have lived there ever since. Linda, a retired corporate and securities lawyer, is deeply involved with community activities (The Providence Center, Trinity Rep, the Dunn Institute, and tutoring in the Providence public schools). Steven is a general surgeon in private practice who works mostly at Miriam Hospital. Steve and Linda report "we have two grown kids: our 26 year-old daughter Jen, a 3rd year vet student at UPenn, and 21 year old son David, who will graduate from Yale this spring and is hoping to hear any day now that he has a job in Boston. Nope, we possess not a single artistic credential among us...in fact, Steven and I may be two of the most untalented individuals on the planet." Linda's high school woodblock clouds were described by her art teacher as "more like vacuum cleaner bags." Steven has done a little better. "We are both proud to display a wire penguin that he crafted in college. The fact that it was intended to be a horse doesn't bother either one of us a whit. But we love to spend time in art galleries and tend to put most artists on pedestals. So we're hoping that qualifies us to live at Riverfront."

Jess Clayburgh
Unit 306
Hi, everyone. I am a physical therapist and work with orthopedic patients in an out-patient setting. My mother is an artist; unfortunately I did not inherit her talent. I can manage to knit a sweater, make jewelry out of Bali silver beads, and draw very bad stick figures. So I will be depending on all of you to provide stunning artwork and decorative advice for the loft. Seriously, I can fix your back (hopefully) if you can provide artwork or a glass of wine. I'm looking forward to moving in and enjoying sunsets on the river.

Asya Palatova
Unit 611
I will be moving into Unit 611 in the Vesta Building. In June I am graduating from the RISD MFA ceramics program, and plan on using my space as a studio as well as a living space. I make sculptural as well as functional pieces, and they are posted on my web site: www.gleena.com. Gleena means "clay" in Russian. I was born in St. Petersburg, Russia and immigrated to the US in 1980.

Prior to attending RISD, I lived in New York City and had my own graphic design business, though ceramics has always been my passion. I had a studio in Brooklyn, NY that was half graphic design and half ceramics. I plan on continuing with both professions at Riverfront Lofts.

I have a cat named Oz. He came with that name when I adopted him. I think I might have adopted him because of the name. He's not very friendly. Oz and I are looking forward to moving into our new home and being a part of an exciting community.

Ruth Emers
Unit 303
I am a sculptor. I first studied with Louise Nevelson in NYC, then went to Brown for a graduate degree in art and also studied at RISD. Two years ago I was awarded a fellowship at the Fine Arts work Center in Provincetown, MA for a month. I belong to the New England Sculptors Association, The Providence Art Club, the Copley Society in Boston and the Connecticut Academy of Fine Arts.

In my last incarnation I was a teacher of young children in Great Neck, NY and in Providence. I also taught Creative Dramatics with the Looking Glass Theater and conservation education for the Audubon Society.

My pets are the wild birds who come to my feeder, especially the Cardinal and his wife, who make sure I don't forget.

I have three grown children: Michael, a farmer/botanist in Alaska; Charles, who runs an artisan bakery and small farm in Vermont; and Dara, a graphic designer in Austria. They have made me a grandmother of five grandchildren. I am currently enjoying refinishing and decorating my old furniture on the side, and also knitting.

I love to bike ride and walk and can't wait for the bike path to be completed. I enjoy folk and classical music and hope to attend Stone Soup Coffee House down the street. Traveling to remote and off the beaten path places is a special interest Š the last trip was to Bhutan.

I look forward to my new incarnation as a resident of Riverfront Lofts. Lastly, I am offering a special studio sale by appointment only, any time before moving day. I live in the greater Providence area. Please call 433 0472. I'd love to show you my work.

Joan Hausrath
Unit 504
Hi, IÕm originally from Ohio, but for the last 30 years I have been living in Massachusetts. I very recently retired from teaching art at Bridgewater State (MA) College and am looking forward to settling into Unit 504 with my buff colored cat, Emily. I plan to set up a studio next to my long row of windows where I will work on my art - making prints (etchings, lithos, woodcuts, monotypes, etc.) and where I may occasionally teach a workshop Š that is, if I have time. (Retirement is keeping me very busy, and as a friend pointed out, when you retire, you donÕt get days off for weekends or holidays!) Among other things, I like to read, cook ethnic food, attend movies, theatre, and dance and I love to travel. I am also looking forward to discovering the nooks and crannies of Rhode Island and will appreciate recommendations from those of you familiar with the area. I looking forward to meeting my new neighbors, and count me in on exchange cat sitting.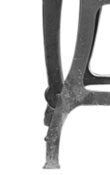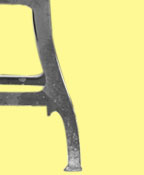 Costume jewelry
manufacturing equipment
saved from the previous
owner, J&K Sales
Company, will be on
display in the
elevator lobbies.